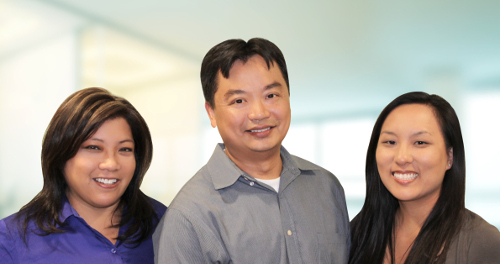 Dr. Joanne Young,  Dr. Andrew Tran,  Dr. Christine Ahn
Dr. Young was born in California and raised in the San Fernando Valley. She received her undergraduate degree at UCLA, and completed her Doctor of Dental Surgery degree at USC.
Dr. Andrew Tran grew up in Los Angeles. He received both undergraduate and Doctor of Dental Surgery degree at USC. Dr. Tran continues to stay current with the latest advances in cosmetic dentistry through continued education.
Dr. Christine Ahn is from the San Diego area. She received both undergraduate and Doctor of Dental Surgery degree at UCLA.
The three doctors have practiced in the Santa Clarita Valley for over 45 years. We have a new, state-of-the-art dental office in Valencia, featuring digital x-rays, one visit all ceramic CEREC CAD/CAM crowns, laser dentistry, LUMINEERS veneers and in-office whitening.
Your comfort and dental health are our priority. Our friendly team strives to provide our patients with a relaxed, personal and positive experience. We provide comprehensive treatment planning, including a review of your medical history. Our goal is to provide you with a beautiful smile as well as optimal dental health and disease prevention.
We offer all aspects of General and Cosmetic dentistry, including exams, cleanings, fillings, crowns, bridges, bonding, scaling and root planning, LumiBrite teeth whitening, veneers, bruxism devices and dentures. We also work with local qualified specialists to surgically place implants or for complicated oral surgery. We are happy to see patients of all ages, and Nitrous Oxide Sedation is available.
Our knowledgeable staff includes a full time Registered Dental Hygienist.
The staff members at Joanne Young, DDS, Inc., are continually receiving training to stay informed of Dentistry's latest products and new technology available for our patients.
Your safety is of the utmost importance to us. We strictly adhere to the recommendations of the American Dental Association (ADA), the Center for Disease Control (CDC), and OSHA for our Infection Control and sterilization procedures.